Environmental Studies
Master of Science
(37 Credit Hours)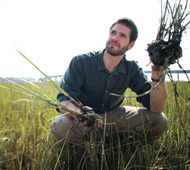 This interdisciplinary program will prepare you for the challenges of a career in the environmental field. As a student of environmental policy, you'll focus on the development and implementation of public policy responses to environmental issues, especially the economic, political and social factors that are an intrinsic part of the policymaking process. If you are more interested in the science behind policy issues, you'll acquire a solid foundation based on the ways information should be used to assess environmental and societal risk and the relevant policies. Coursework is in environmental science and policy as is the laboratory work and field research.
Admissions Criteria
Official transcripts from all academic institutions
Official GRE scores; official TOEFL scores if your primary language is not English
Minimum undergraduate GPA of 3.0
Previous coursework in biology, chemistry and statistics
Three letters of recommendation • Written goals
Tuition
For the most up-to-date information, visit Treasurer's Office Tuition and Fees.
Application Deadlines
Fall priority deadline for completed applications: March 1. (This deadline is for those students seeking scholarships and assistantships.)
Fall deadline for all other completed applications: July 1.
Spring: November 1
Summer: March 1
Contact Information
Annette Watson
program director
843.953.2002
Additional Information